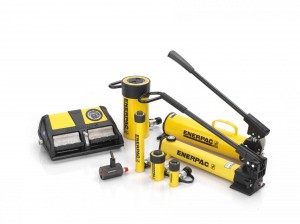 Enerpac is the recognized global leader in high pressure tools and equipment used in industrial markets. The history of Enerpac dates back to 1910, when our original company produced water pumps for the Ford's legendary 'Model T' motor car. Enerpac's reputation as a technology leader began in the 1920's when the first hydraulic jacks were introduced. In the late 1950's, an Industrial Products Division was formed and along with it, the brand name Enerpac. Today Enerpac operates from 28 facilities in 22 countries with over 1000 employees and manufactures thousands of products that it distributes globally through 1200 distributor partners with catalogs printed in 19 languages.
At Enerpac, our focus is to provide our customers with the most extensive line of products and accessories that maximize force – to increase productivity and make work safer and easier to perform.
Our comprehensive family of tools and equipment deliver reliable and dependable performance for virtually any industrial segment, from the smallest cylinder to computer-controlled systems for lifting huge structures.
Enerpac products are distributed worldwide, though all feature the convenience of local service and support. Our technical capabilities in support of integrated solutions projects such as lifting the Golden Gate Bridge in the USA, helping to launch the Millau Viaduct in France, and raising the roof for Beijing's 'Bird's Nest' stadium, make the safe and accurate movement of some of the largest structures on earth possible. Enerpac is a division of Actuant Corporation, a $1.6 billion diversified global manufacturing company, headquartered in Menomonee Falls, Wisconsin, USA.